---
Happy Holidays everyone, it's time to start thinking about, or more likely, time to start purchasing gifts ahead of the silly season.
We've got gift ideas for every type of game, the movie fan, or just your average pop-culture fantastic below for you to check out.
Xbox

Nintendo

PC

Movie & TV

Tabletop Gaming

Gifts For Nerds
---
PLAYSTATION GIFT GUIDE
Starting with PlayStation, I'd love to suggest you buy a PS5 for everyone who wants one and doesn't have one, but that just isn't going to work. However, if you know or have managed to secure yourself a PS5 in any recent drops, here are some great gift ideas for the PlayStation gamer.
Deathloop
Deathloop is going to be one of 2021's games and is a Game of the Year contender. It's a game that takes advantage of all of the PS5's features and features a dynamic and exciting story to engage the gamer.
Ratchet & Clank: Rift Apart
Ratchet & Clank: Rift Apart may not re-invent the long-running franchise's formula, but it doesn't need to. It's a stunning game to look at that uses all of the PS5's features and is some of the most bombastic fun you can have this year.
Hades (Physical Edition)
We've suggested Hades a lot here, Explosion Network, but for good reason as it's a fantastic video game. Earlier this year, Hades got a physical release that includes a 32-page art book and a code for the soundtrack for the game, making this the perfect stocking stuffer game.
WD_Black SN850
If you know someone who loves to install many games and refuses to delete things they haven't played in ages, buying an SSD for their PS5 is a great gift idea.
DualSense Midnight Black/Red
Several places currently have the Black or Red DualSense controller for cheap, and it's a great gift idea for someone who just got a PS5 or has been stuck with the White DualSense since launch.
12-Month PlayStation Plus
PlayStation Plus is a must for anyone wanting to game online with their friends, and it certainly doesn't hurt you to get a couple of free games each month as part of the subscription. Even if you know someone with a current sub, getting them a year to top up their subscription isn't going to hurt.
---
About The Author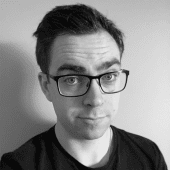 [He/Him] Founder & Content Manager of Explosion Network. Currently on a mission to get Rhea Seehorn an Emmy.
Related Posts
June 25, 2020
We may include links to stores in our posts. If you make a purchase, we may receive a commission through an affiliate program. Read more on our ethics page
Loading...
Something went wrong. Please refresh the page and/or try again.
---
---