---
This past week Media Molecule held their now annual Impy Awards, a show dedicated to showcasing the best that Dreams had to offer in the past year. It was a fantastic show and highlighted many games I had not had a chance to play myself. So I dove headfirst into the shortlist and discovered some real gems, but one took my interest more than the others.
The Snowgardens is a puzzle/adventure game with some fantastic art design and a mysterious world. But what made it stand out more than any other game I had played previously was the Ko-Fi and Paypal links in the credits of the game. Of course, using a Ko-Fi as a pseudo tip jar isn't anything new. We use one, and Ko-Fi is excellent. However, I hadn't seen anyone smart enough to include one in their Dreams project, and I had to know more. Thankfully Anthony Cristiano, aka HalfUp, the creator of The Snowgardens, was happy to talk to me about Ko-Fi and his experience in creating the Impy Award winner for Best Art Design, The Snowgardens.
In The Snowgardens you play as a lost traveller who must traverse several different islands, solving puzzles and attempting to find a way to escape the almost Bermuda triangle clutches of this patch of sea and land.
Or that's how I would pitch it. After completing the game, I wasn't too sure what The Snowgardens was about, not that it bothered me, but I was happy to hear Anthony isn't sure what it's about either.
"I'm not even so sure myself what it's about. I guess at its most basic it's about an ancient civilization that's somehow fallen to ruin due to this 'technology' and how that happened […] It's hard to say because it's definitely not a story focused creation."
Anthony says that Monument Valley, Litle Nightmares, Journey, Hyper Light Drifter, Breath of the Wild, Mario Odyssey and FEZ were the main inspirations behind The Snowgardens. And it's easy to see the influences amongst the puzzles and art-direction of the game. But when it comes to his game's lore, Anthony said that most of the inspiration came from within, as The Snowgardens is a follow-up to his first Dreams creation, The Watergardens.
"I wanted to try adding a sense of history and lore so people could create some of their own theories, but for me personally, it was definitely always more about creating a visual/art/design project that looked cool, and seeing if I could expand a bit upon the world from The Watergardens."
Expanding on that Anthony says that the short film An Island was also an inspiration and The South Channel Fort in Port Phillip, Victoria, Australia.
When I asked Anthony just how much planning went into creating The Snowgardens, his answer didn't sound much different to some I've received from part-time and full-time game developers.
"I did a fair bit of planning lore-wise. That's where the bulk of planning was for sure, just trying to work out what happened to this place, and what does this stuff do. I like to draw, so I roughly sketched out quite a few of the areas out on paper. I'd say most of it just happened on the fly in Dreams while creating though. Two of the levels weren't actually planned at all, I had just made them for fun or to experiment and just decided to tie them in. But yeah, a lot of big decisions and changes just on the go, gameplay-wise at least."
Often I wonder just how many of the creators inside Dreams crafting these beautiful worlds and games are studying to be, or are game developers. When it came to Anthony Cristiano, the answer was no. He's currently in his final semester studying for a degree in Business and Digital Design. Go figure!
But do the creation tools of Dreams inspire the next generation of game developers? It certainly seems possible as Anthony continued to explain that game development had been a dream job he just didn't think he could pursue.
"I never really pursued it because I didn't think I could do it and didn't think I'd be able to find work if I went down that path. I'll admit though, seeing the interest and reaction from The Snowgardens has definitely had me looking back down that game dev path again recently. Once I get more free time, I'd love to try to wrap my heart around something like Unity and see what I can create."
Anthony explained that Unity had previously been too complicated and frustrating to learn.
"So many buttons, so many words I've never seen, and I just felt thrown straight into it with no explanation." However, Dreams with built-in tutorials and more accessible systems were more straightforward for him to wrap his head around.
"Tutorials are part of Dreams, they're interactive and walk you through everything step by step, so I didn't need to keep rummaging through a million searches to find specifically what I needed. There's no industry jargon, so the terminology is simple and easy to understand, and you can just hover your cursor over literally any of the tools for a short and simple explanation of its function or uses. Granted, now that I've had more experience with Dreams, I feel a lot more confident about re-visiting and committing to something like Unity."
So how about that Ko-Fi and PayPal link? That's some smart thinking.
"Yeah, I don't think there's many of us doing that donation stuff in Dreams. I've seen one other person who's using Dreams to create music do it."
Anthony stated he was hesitant about doing it at first, but some mates of his outside of the Dreams community pushed him into doing it. Presumably, after seeing how much time he was putting into his creations.
"I don't think there are really many negatives to doing it! I don't see why other creators shouldn't do it if they don't want to. I think it'll only become an issue if people somehow start locking content behind a donation, that would defeat the whole purpose of Dreams (and I'm sure there's probably some legal issues there too)"
In the year since Dreams released one of the hottest topics has been around the user-generated content module. 'Is Media Molecule profiting off the work of others?' An easy middle ground for that is for more creators to simple start including links for Ko-Fi or PayPal inside their games.
As for how successful his donations have been, Anthony says he definitely won't be living off of them anytime soon, but he appreciates every single dollar nonetheless.
"The first dollar that someone sent immediately made it successful for me. Like, that dollar could be a frozen coke at Maccas, and someone bought that for me from across the world for just doing something I find fun in my spare time. It's cliche and cheesy but the also emotional aspect, the idea that 'someone liked something I made so much that they were willing to send money is also incredibly humbling and gratifying."
Anthony hasn't been keeping track of exactly how much he's received across the two tip-jars, but he thinks he's received more than enough to have paid for his copy of Dreams.
"I'm certain I can say I've received enough donations to recoup the money I initially spent on Dreams in the first place. In a way, it's like the Dreams community has now bought me a copy of Dreams, which allowed me to make The Snowgardens for them haha. It's a nice thought."
A handful of Dreams games including The Snowgardens have felt like complete enough experiences that I'd have happily paid a couple of dollars to buy the game off somewhere like the iOS store. Anthony told me he'd love to be able to export The Snowgardens to places like the PlayStation Store, or Steam. But he also brought up several examples of why it would get legally, and logically tricky.
"I think [Dreams] open market, the collaboration, the ability to just use whatever is super important to what Dreams is. And then there's also all the copyright issues. Because you can use other people's creations in your creation in Dreams (if the author allows it), exporting something and calling it yours (even if it includes assets from someone else) would have a whole lot of copyright/legal issues. If I made a whole set of assets and someone went and used them all in a game, and then exported and sold it, potentially without me even knowing, that would obviously suck."
Dreams currently lets you mix and match other creators assets to your liking if they set them for public use, and most people do because there's little reason not to do so. Of course, if money was on the table that would change quickly, and that's understandable. Anthony did pitch another version of Dreams where you can't re-mix other peoples content and noted that it takes away what makes Dreams so special and unique.
It's sad to see that the games created within Dreams are currently the only creations stuck within the confines of the PlayStation system. There have been two successful cases of people creating music and a short film within Dreams, to then release them outside the confines of the Dreamverse.
Creator Byvsen has released two albums of music developed within Dreams under Green Guy that you can listen to on Spotify right now.
And then you have Noguchi's Bell, which is a full animated short film you can watch on Youtube. It was created within Dreams, and it looks insanely good.
>


"

"Media Molecule seem pretty open to a lot of things and have been incredibly supportive of creators." 

"
I asked Anthony what percentage of sales he thinks would be fair for Media Molecule to take in a world where he could export his games to a place like the PSN Store.
"Maybe 20-30% would be fair? Dreams is already super cheap, doesn't require a subscription or anything like that. So they would take something like $0.6- $1. I think 30% is the standard for app stores. And then I think Unity is something like $0 until the game reaches a certain about or profit?"
Unity, the very popular game engine, is free to download, and you only have to update if "revenue or funding exceeded $100K in the last 12 months."
But what are the plans for Anthony Cristiano now that he has an Impy Award under his belt? He wants to finish up his 'Gardens Trilogy' with a final game, which he says he's already begun pre-production work on by sketching out some ideas and lore.
"Just the other day had an idea for some more lore and a way I could tie it all together to create an actual story/narrative, so I'm looking forward to that! I'm planning to call it The Sandgardens and using it as a way to see if I can challenge myself a bit and push what I learned from The Snowgardens even further!"
Alongside the third Gardens game, Anthony is working with another Dreams creator, RuroniDan, on a classic 3D platformer where you play as a baby panda that sounds very cute. He also has a character named 'Potkid', a plant with a pot for a body that can tuck himself inside like a turtle that he plans to explore gameplay ideas around.
In talking to Anthony, I could sense his passion for Dreams and how happy he is with the reception to The Snowgardens. I can't wait to see what he does next and to see how Dreams grows in its second year.
Follow Anthony Cristiano/HalfUp on Twitter.
Play The Snowgardens here & find Anthony's other creations on his InDreams profile.
---
About The Author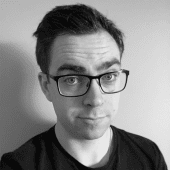 [He/Him] Founder & Content Manager of Explosion Network. Currently on a mission to get Rhea Seehorn an Emmy.
Related Posts
September 21, 2018
We may include links to stores in our posts. If you make a purchase, we may receive a commission through an affiliate program. Read more on our ethics page