---
It's the last month before the next-generation of console begins and if you thought things would be slowing down before we turn into the PS5 and Xbox Series X/S generation, you'd be wrong. There's a lot of big games releasing this month from sequels to beloved franchises to a new entry in one of Ubisoft's biggest and most love franchises.
Let's take a look at some of the biggest games releasing in October 2020.
---
Crash Bandicoot 4: It's About Time – 02/10
He's back and better than ever — or so we're hoping. Toys for Bob put a lot of love into their Spyro Trilogy remake a couple of years ago, and they obviously have a passion for the PS1 mascots. This time they're crafting a brand new entry in a much love platforming franchise. And by tagging a number four onto the end, the bar is set kinda high for super-fans.
Brand new masks bring new powers and there's more than one playable character with Coco, Neo Cortex and Dingodile along for the ride as well.
Star Wars: Squadrons – 02/10
This is a game I know a lot of Star Wars fans have been dreaming about. It's nothing but star-fighters, and you can play the full game in PC VR and PSVR.
With a budget price point ($59.95 AUD), it sets your expectations for the length and scale of the campaign, but its the multiplayer that could be a surprise hit. If all the elements come together this could the best Star Wars game EA has produced so far.
Baldur's GATE 3 – 06/10
Baldur's Gate 3 is Larian Studios highly anticipated follow up to Divinity: Original Sin 2. The game is based on the tabletop role-playing game Dungeons & Dragons and utilities the core systems involved in the back-end of the game to make decisions. This means virtual dice throws for your attacks and other actions.
The game is launching in Early Access in October but Larian Studios have promised about 20 hours worth of content for early adopters.
Mario Kart Live: Home Circuit – 16/10
Look — I'm super pumped for this. It's becoming a running joke that I'm more excited about this than anyone else at the Explosion Network but I can't help it. My inner child has emerged to bask in the joy the trailer for this gave me.
Using AR technology, a real-life kart and some cardboard cutouts you can create your own Mario Kart course inside your house. I love the combination of tech that's coming together here and I'm hoping to report later in the month it was worth the hype.
Amnesia: Rebirth – 21/10
Frictional Games, The creators of the Amnesia series return to offer new scares in time for Halloween. This time you're playing as Tasi Trianon who crash lands in the desert of Algeria with a case of memory loss.
What happens after that? Who knows but it looks like you'll be exploring a secret crypt with scary creatures. All-the-while Tasi will he trying to piece together her memories to find out how she got into such a predicament.
Ghostrunner – 28/10
There's one cyberpunk game coming out this month and it's a lot faster-paced than the one from CD Projekt Red. Interestingly, developer One More Level is Polish, so there must be a taste for cyberpunk there.
Ghostrunner is all about moving fast, slicing your enemies in half. With a slow-motion mechanic and wall-running, it feels like a trial-and-error game similar to Hotline Miami. You must work out the best route and perform it to almost perfection to clear a room and move on, but when you do it, you feel like a bad-ass.
Watch Dogs: Legion – 29/10
The third entry in the Watch Dogs franchise has ditched having a typical protagonist to let you play as whoever you want. Recruit and play as different people around London as DEADSEC works to take back London from an oppressive force.
You can play as a little grandma, a construction worked, or even a true hitman. It's certainly a concept that, at the reveal, had me asking "how is this even possible?" We'll find out soon enough if the final game lives up to its promises.
It's worth noting that there will be a next-gen version of Watch Dogs: Legion releasing for PS5 on November 24th and an Xbox One X version on launch day.
The Dark Pictures Anthology: Little Hope – 30/10
The anthology series from Supermassive Games returns. This time the story is focusing on four college students and their professor who get trapped in the small town of Little Hope.
Some of the trailers have teased witches which would be scary and exciting to see. Little Hope will let you play online or with friends in co-op again and there will, of course, be reasons to replay as characters can die at different points of the story.
Have I missed a game that you're excited about in October? Let me know in the comments section below.
About The Author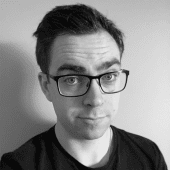 [He/Him] Founder & Content Manager of Explosion Network. Currently on a mission to get Rhea Seehorn an Emmy.
We may include links to stores in our posts. If you make a purchase, we may receive a commission through an affiliate program. Read more on our ethics page